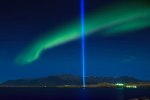 The Imagine Peace Tower in Reykjavik is to light up the skies once again this evening and will shine into the blackness every night until the 8th December.
Yoko Ono, the driving force behind the tower dedicated to the memory of John Lennon, will be offering free trips to Videy island near the Icelandic capital this evening and tomorrow evening so that people can get to see the tower up close.
Today would have been Lennon's 70th birthday, which is why Yoko Ono is also holding a series of events to celebrate, including a concert this weekend.
The free ferries to Videy begin departures at 18.30 this evening and at 19.00 tomorrow. The light will be turned on at 19.30.
DV reports that Ono is accompanied on her trip to Iceland by Ringo Starr and Sean Lennon (her son with John).