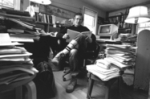 The American linguist, philosopher, cognitive scientist, and political activist, Noam Chomsky will be giving a live video-conference at the 7th annual Reykjavik International Film Festival (RIFF) in Iceland this month. The film festival, which takes place between September 23rd and October 3rd, offers both Icelandic and International films from a wide range of alternative and independent cinema.
Chomsky's conference, entitled Hopes and Prospects, will be a free event taking place on 28th September at 6pm in the University of Iceland Cinema (Háskólabíó). Chomsky will reflect upon the near collapse of the economic system, addressing questions such as: Where we can find hope? What are the alternatives we should be building? and, What can Iceland learn from what happened?
In addition, there will be twelve directors from eleven different countries in RIFF's New Vision category this year. The New Visions category consists of twelve films: Aardvark, At Ellen´s Age, Attenberg, Fleurs du Mal, Inside America, Jo For Jonathan, The Four Times, Littlerock, Mandoo, Tomorrow, Song of Tomorrow and The Christening, all of which are competing for the main prize, the Golden Puffin award.
The Reykjavik International Film Festival began in 2004 by a group of film enthusiasts and professionals wanted to create an annual international film festival in Reykjavik. The independent film festival has since become one of Iceland's most popular cultural events and this year is set to be even more diverse and exciting than ever before.
For the opportunity to put forward some questions for Noam Chomsky and to view the full film festival schedule online, visit www.riff.is/EN