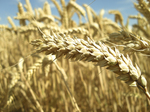 Temperature records continue to be broken in Iceland in the current heat wave. Saturday was the warmest day of the whole year so far – which is scarcely believable in the month of September.
The Icelandic Met Office has recorded temperatures over 20 degrees centigrade every day of September so far – which is totally unprecedented since temperature records began. Meteorologist Trausti Jonsson says that the temperature was as high as 24 degrees in much of northern Iceland on Saturday.
Never, since records began, has the warmest day of the year arrived so late. September is considered an autumn month by most in Iceland – and the seasons often change as early as mid August. July is usually the warmest month in Iceland; and this July was considered particularly pleasant, making the September heat record even more notable.
Saturday was not only Iceland's warmest day of 2010 so far, but also the warmest September day on record for weather stations including Blonduos, Hraun a Skaga, Torfur in Eyjafjordur, Manarbakki, Stadarholl and Skjaldthingsstadur in Vopnafjordur. It was also the first time that the September temperature rose above 20 degrees in the Westfjords.