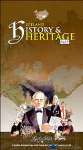 The online Icelandic retailer, Nordic Store is now selling a series of illustrated maps of Iceland for anyone interested in learning the history and heritage of the country. The series consists of eight maps, each focusing on a different area of Iceland including the Southwest, the West Fjords, the East and also one map that covers Iceland as a whole.
The maps explain the history and heritage of Iceland through texts, illustrations and photographs, beginning with the settlement of Iceland in the 9th century right up to the 20th century. The maps introduce Icelandic folktales, food culture, medieval literature, wildlife, tourism and much more. The maps are also available in Icelandic for anyone wanting a challenge and little more authenticity.
Nordic Store is a leading online shop in Iceland that focuses on providing and selling the Internet shopper with the biggest selection of Icelandic products. The products on sale range from clothes, jewellery, music, DVDS, travel guides, books, arts and crafts, health and beauty, souvenirs, and even food and beverages.
To view the whole range of Iceland maps, visit www.nordicstore.net