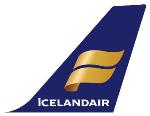 Icelandair is pleased to announce it offers the most weekly flights to and from the UK, with up to 22 per week; the airline is also amongst the most punctual in the world, with 89.6 percent of flights on time.
An excellent way to experience Iceland is with Icelandair Reykjavik City Breaks, which includes flights, accommodation in selected top-class hotels, all within walking distance from Reykjavik's bursting nightlife and cultural activities.
During your visit, why not experience the wonders of the Golden Circle? Numerous tour providers located in downtown Reykjavik offer selected trips to Iceland's most popular attractions. Here you'll see the golden waterfall, Gullfoss, the world famous geothermal area of Geysir and Thingvellir National Park, where Europe meets America at the Continental Divide.
For thrill seekers, there are also glacier walking trips, snowmobile day tours and horse riding treks available from many of Reykjavik's top travel providers.
Furthermore, since the devaluation of the Icelandic Krona, there is has been no greater time for travellers to relish in Iceland's geothermal spas, thrilling nightlife and pristine nature, all for a fraction of the cost.
Icelandair offers flights from Manchester, Glasgow and London Heathrow, whist also flying further to destinations like New York City, Seattle and Boston. Icelandair is one of Iceland's longest established companies, connecting the world to Iceland for over 70 years.
To find out more about Reykjavik City Breaks with Icelandair visit www.icelandair.co.uk