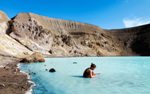 Lonely Planet, the largest travel guide and digital media publisher in the world, has this year been encouraging travellers to visit Iceland, naming it as a top travel destination for 2010. The most recent recommendation appeared in an issue of Lonely Planet's monthly magazine, proclaiming Iceland as one of its 'Perfect Trips for 2010' as 'there really has never been a better time' to go.
Iceland's capital city, Reykjavik, is highly recommended by Lonely Planet, describing it as the perfect location for those wishing to enjoy 'endless' summer evenings. The travel guide also recommends taking a road trip to the hot springs of Landmannalaugar, a geothermal area in the southern highlands and taking a boat ride to see thousands of puffin chicks fly around the beautiful Vestmannaeyjar islands.
In addition, at the beginning of the year, Lonely Planet released its Best Travel in 2010 book with 17 top travel lists. The book was the publisher's fifth annual collection of the world's best journeys, destinations, and experiences for the coming year and Iceland ranked in the top ten best value places to visit; something which Katrin Juliusdottir, Minister of Tourism and Inspired by Iceland committee member, is extremely happy about.
"We believe Iceland is a country that can inspire everyone who comes here. The stunning geography and wonderful scenery, the warmth and kindness of the people, the unique culture and accessibility of Iceland all go towards making our country a great place to visit. We want the world to know that," commented Juliusdottir.
Inspired by Iceland is an online campaign that was launched by the Icelandic government earlier this year. The campaign aims to help push Iceland tourism on a global scale after visitor numbers to the country dropped significantly after the Eyjafjallajokull volcanic eruption in April. Now that the eruption has ceased, the Inspired by Iceland campaign, along with the Lonely Planet recommendations, has been helping make people aware that the safety and beauty of the country is still intact.
For more information on the Inspired by Iceland campaign, visit www.inspiredbyiceland.com. Alternatively, you can also follow Inspired by Iceland on Facebook and Twitter.