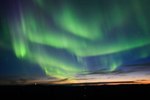 The Geophysical Institute at the University of Alaska Fairbanks has predicted increased Northern Lights activity in the next coming month across Iceland.
Within its website, the aurora activity forecast predicts the expected location of the most active aurora forms, for which Iceland is amongst the highest in activity.
The Institute explains that the best time to observe the aurora is near local midnight, this is when the most active forms often occur. Aurora activity tends to come in waves during evenings, which are called aurora sub storms. However, the institute also insists that during an active period, there will be lulls in which the aurora activity is subdued; however, the patient observer will often see a new burst of activity within an hour or two.
The Northern Lights are without a doubt one of the most breathtaking natural spectacles in the world. The natural light displays of the Aurora Borealis occur most frequently in the Arctic Circle, centred within a 2500 km radius of the geomagnetic pole. As Iceland is on the cusp of the circle, the Island in the North Atlantic provides the perfect viewing location for the Northern Lights.
In conjunction with this, leading airline, Icelandair, offers flights daily flights to Iceland from three of the UK's top international gateways; London Heathrow, Glasgow and Manchester airport.
Visit http://www.icelandair.co.uk for more details.