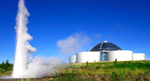 Iceland has never been so alive and bursting with activities, especially since the ceasing of the Eyjafjallajokull volcano. In recognition of this, Icelandair is offering unforgettable Reykjavik City Breaks for UK travellers.
Whether you're looking for excitement, adventure or pure relaxation, Reykjavik has everything you'll ever need. With top-class restaurants and cuisine, exciting nightlife and amazing attractions such as Hallgrimskirkja and the Blue Lagoon, Reykjavik is the ideal destination for a short break.
Reykjavik City Breaks, with Icelandair, includes flights, accommodation in selected top-class hotels, suitable for any budget. During your visit, why not experience the wonders of the Golden Circle? Numerous tour providers located in downtown Reykjavik offer selected trips to Iceland's most popular attractions. Here you'll see the golden waterfall, Gullfoss, the world famous geothermal area of Geysir and Thingvellir National Park, where Europe meets America at the Continental Divide.
Icelandair offers flights from Glasgow, London Heathrow and Manchester.
To find out more regarding Reykjavik City Breaks and to book flights from the UK visit www.icelandair.co.uk