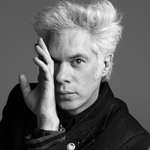 The President of Iceland, Olafur Ragnar Grimsson will be presenting film director Jim Jarmusch with the 2010 RIFF Honorary Creative Award during this year's Reykjavik International Film Festival, to be held between September 23rd and October 3rd.
Known as a minimalist filmmaker, Jim Jarmusch is among the most important independent filmmakers of his generation. Jarmusch's films are unhurried and often eschew traditional narrative structure to focus more on mood and character development, always with a strong sense of locale permeating his work. Some of his best known films include Night On Earth (1991), Dead Man (1995), Ghost Dog: The Way of the Samurai (1999), Coffee and Cigarettes (2003), Broken Flowers (2005) and The Limits Of Control (2009).
He won the Grand Prize of the Jury at the Cannes film festival for Broken Flowers in 2005, and has been nominated for the Golden Palm five times. He also won the Special Jury Prize at the Sundance Film Festival for Stranger Than Paradise in 1984.
During this year's Reykjavik Film Festival, three of Jarmusch's films will be screened, as well as a film Jarmusch made with his wife, Sara Driver, who will be joining him in Iceland.
Furthermore, Jarmusch will be holding a master-class and/or a Q&A in connection with the screenings of his films.
To find out more about this year's Reykjavik Film Festival visit http://en.riff.is/