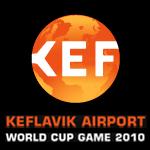 Keflavik International Airport in Iceland launched a competition at the beginning of June in coordination with the World Cup Football Championships 2010. The football competition, which ends this Sunday, focuses on participants predicting the World Cup playoffs with hundreds of prizes to be won including the grand prize, a 10 day self drive trip to Iceland.
Participants who predict the correct results are given a certain number of points in relation to the odds on each game, then the participant who achieves the highest number of points wins the game. Each day of the competition, prizes are awarded to participants with the highest points and also to fans of Keflavik International Airport on Facebook.
However, with the World Cup final coming up this Sunday and the competition drawing to a close, IceNews went to catch up with the Marketing Manager at Keflavik Airport, Arnar Reynisson to see how everything played out.
IceNews: What were the main goals of KEF when starting this competition?
Arnar: Our mission was to create a game that everyone could play with easy rules and exciting prizes, whilst at the same time communicating with participants about goods and services offered by Keflavik Airport.
IceNews: Have you managed to achieve what you set out to do?
Arnar: Yes, very much so. Through the competition we have been able to promote the airport and its duty free area by using our social media channels, such as Facebook and Twitter. The results have been far better than we could of ever expected. We now have thousands of fans and friends following us, which allows us to become more one-on-one and personally reach each customer with tailored messages.
IceNews: What kind of feedback have you received from participants?
Arnar: Our fans have been really enjoying this communication and it's great to see how this has increased awareness and influenced our image in a positive way. Also, when we compared our two Facebook groups, World Cup participants vs. non participants, our participants came out on top with around 15 percent more people in the group.
IceNews: How does this competition compare to previous KEF campaigns?
Arnar: Well, other initiatives implemented by us have reached our target market and received awards but the results and attention that this competition has received compared to previous campaigns are much higher. I believe this just represents the ongoing ambitious and creative work that we have been doing here at Keflavik Airport.
IceNews: Does KEF have anymore exciting competitions or events planned for 2010?
Arnar: Yes, indeed. We will be in fact be launching another huge online campaign later this year. We will be offering another chance to win a trip to Iceland, so it definitely pays to follow us on our social media channels.
For further information about Keflavik International Airport's events and competitions, visit www.kefairport.is/English or follow them on Facebook and Twitter.