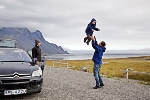 Self drive holidays in Iceland are proving to be a popular choice amongst travellers visiting the country this summer. The self drive experience has long been considered by many as the best way to explore Iceland as it gives travellers the freedom and flexibility to experience 'the land of fire and ice' at their own pace.
The increasing popularity of pre-organised self drive tours is mainly due to the difficulty of finding accommodation in some regions of Iceland during the busy summer season. However, travel agencies like Icelandtotal.com hold reservations at hotels all across Iceland, allowing them to create the perfect route to fit your needs.
In addition to this, Icelandtotal.com boasts the highest selling self drive tour, 'Around Iceland', which includes 7 to 13 nights accommodation and car rental. The one-stop-travel-shop also offers several self drive tours that vary in terms of duration and theme, from two-night stop-over deals or multi-day "see it all" packages.
Self drive holiday package deals from Icelandtotal.com offer great value for money and convenience for customers. With a fixed package, all hotel and car arrangements are taken care of, plus complimentary road maps, a detailed route itinerary and access to a 24/7 emergency phone are also included.
Further information about self drive holidays in Iceland can be found at www.icelandtotal.com