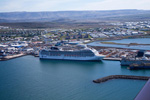 The magnificent MSC Poesia cruise ship docked in the Port of Hafnarfjordur recently, breaking the record of the largest ship ever to dock in the harbour. The luxury cruise ship arrived in Iceland on Friday 11th June and was the first ship to arrive in Hafnarfjordur this year.
Many of the MSC Poesia passengers went on sightseeing tours in the area surrounding Hafnarfjordur to see Gullfoss and Geysir, whilst others travelled to the geothermal area of Krysuvik and the Blue Lagoon. City sightseeing tours to Reykjavik also took place whilst children from the local schools in Hafnarfjordur entertained passengers and crew members with music and drama performances in the harbour.
There are another 12 cruise ships scheduled to dock in Hafnarfjordur this year, including the MS Astor which is due to dock on Monday 21st June. There has been a substantial increase in the amount of cruise ships coming to Hafnarfjordur since last year, all in all 13 cruise ships will be docking this year, in comparison to the 4 last year.
Hafnarfjordur is Iceland's third-largest town, with around 25,000 residents built in a lava field just 10 minutes drive from Reykjavik. The town offers opportunities for whale watching, horse-riding and for those cruise ships calling in June, passengers can experience the colourful Viking festival where Viking enthusiasts from all around the world gather in the town to enjoy the numerous events.
More information on cruises to Iceland and Hafnarfjordur can be found at www.portofhafnarfjordur.is