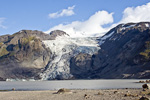 Foreign media, including BBC News and Sky News, are being inspired by Iceland in spreading the huge news of the Eyjafallajokull volcano starting to cool down. This kind of exposure is a reassuring boost for tourism in Iceland, as travellers are now being made aware of how safe the country really is, as well as the unrestricted flights to Iceland.
This exposure in the news and Iceland's search volume online has seen its greatest rise over the past few months, with a total increase of 800 percent global search volume – much higher the period during the banking crisis in Iceland.
"We are thrilled at this positive exposure for Iceland and Icelandic tourism across the world's media. We look forward to seeing more foreign travellers in the next few weeks and for them to be inspired by Iceland and its wonderful landscape and people," commented Jonathan Baker, an English expat in Iceland and contributor to IceNews.
For further information contact Russell Harmon, editor at IceNews. You can email him via news@icenews.is