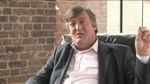 Danish actor, Viggo Mortensen and British writer and comedian, Stephen Fry with other world renowned "friends of Iceland" are supporting the 700 million krona (450 million Euros) promotional campaign 'Inspired by Iceland' that was announced at a tourism conference earlier this month.
The new campaign is specifically intended to improve the image of Iceland after the negative media attention the country gained throughout the volcanic eruption at Eyjafjallajokull. The campaign will show that the real situation in Iceland is actually safe and will encourage people to come and visit the country.
Stephen Fry 'Tweeted' on his Twitter page through the 'Inspired by Iceland' Facebook page, which is part of the campaign, announcing to his readers that despite what some people may think of Iceland, the country is still exciting, beautiful and safe to travel around. This is great support for the campaign as Stephen Fry is one of the most famous British actors and a well respected journalist. On the 'Inspired by Iceland' website yesterday, an interview with Viggo Mortensen also saw him speak highly of Iceland, its beauty and its people.
According to Einar Karl Haraldsson, a representative of the 'Inspired by Iceland' campaign, they intend to get more interviews and support from other well-known figures to support the campaign and promote the country in a positive light. "This of course will help show the world what the current situation in Iceland actually is," commented Einar.
The 'Inspired by Iceland' campaign will be officially launched today at a dedicated ceremony in aircraft hangar 4 at Reykjavik Domestic Airport.
More information on the 'Inspired by Iceland' campaign can be found at www.inspiredbyiceland.com