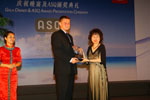 Iceland's Keflavik International Airport has received an award for customer satisfaction by the Airports Council International (ACI) during a recent ceremony that took place at Sanya in Southern China.
Members of staff from the airport flew over to Sanya to attend the ceremony hosted by the ACI in order to receive the award and discuss the future of the aviation industry.
Keflavik airport was named as the 'best airport in Europe', according to a passenger survey conducted about airport quality and service. The airport achieved high marks in passenger satisfaction due to its friendly staff, warm atmosphere and easy accessibility of connecting flights. Partakers in the survey also stated how grateful they were with the extensive airport facilities, including restaurants, coffee bars, information services and quick baggage delivery.
"It was a real pleasure for me attending this well organised award ceremony hosted by ACI. Receiving this prestige award is an unbelievable honor for Keflavik International Airport, especially during these strange times we're going through back in Iceland with the bank recession and the Eyjafjallajokull volcanic eruption," explained Arnar Reynisson, Marketing Manager at Keflavik International Airport.
The Airports Council International (ACI) is the association of the world's airports, created in 1991 boasting 575 members operating 1633 airports in 179 countries and territories.
For more information on the airport's success visit www.kefairport.com