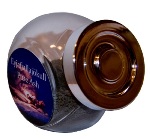 For some businesses in Iceland, the Eyjafjallajokull volcano has had a positive impact and been a great boost for Icelandic tourism and entrepreneurship.
A small Icelandic company has collected ash from the Iceland volcano, filtered, dried and bottled it into small resealable glass containers ready to sell. The box can be opened so you can feel the texture and smell of the latest work of nature from 'The Land of Fire and Ice'.
The glass containers of volcanic ash are the hottest souvenirs from Iceland right now and consequently are available in most tourist shops in downtown Reykjavik, as well as online at Iceland's premier online store, Nordic Store.
The Nordic Store is a leading online shop in Iceland that focuses on providing and selling the Internet shopper with the biggest selection of Icelandic products. The products on sale range from clothes, jewellery, music, DVDS, maps, travel guides, books, arts and crafts, health and beauty, souvenirs, and even food and beverages.
To purchase some genuine Iceland volcano ash visit www.nordicstore.com