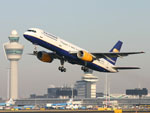 (This article relates to the 2010 eruption at Eyjafjallajokull. For information on the May 2011 eruption at Grimsvotn, please check the IceNews homepage for regular updates) Despite the brief grounding of flights in Iceland, Icelandair flight schedules are now back to normal, with transatlantic flights to and from Iceland occurring daily through Keflavik International Airport.
Day-to-day life in Iceland has continued as normal throughout the recent volcanic eruptions, with the majority of the country unaffected, especially in the largely populated areas of Reykjavik and Akureyri. Those mainly affected are farmers in the immediate area located just south of the volcano crater. This is where the majority of volcanic ash has fallen and consequently acres of farmland and this year's crops have been damaged.
Travel and tourism businesses continue to work as hard as ever, with a number of trips across Iceland, guided tours and hotels still open as usual. In addition, the whale watching season has now officially started for the summer months, alongside new art exhibitions, museums and music festivals.
Icelandair continues its transatlantic flight schedule in and out of Iceland, making it possible to explore the wonders of Iceland. The airline company is also, like many others, continuing to offer package deals and tours around Iceland.
To view the latest transatlantic flight schedule to and from Iceland with Icelandair visit http://icelandairgroup.com/volcano/flight-info-icelandair/