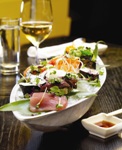 Domo, a top class restaurant and bar in downtown Reykjavik, offers one of the largest wine and whiskey collections in Iceland. The fine dining restaurant has over 90 different types of white and red wine, alongside numerous rye, scotch and Irish whiskeys.
Domo has been 'cooking up a storm' with both the locals and food critics since it opened its doors in 2006. It has been refered to as the "kitchen without boundaries" providing its delcious Asian/French and sushi menu. The fresh fish and sushi restaurant is one of Reykjavik's most outstanding restaurants, serving a range of different sushi made from Icelandic ingredients, as well as serving other delicacies.
The classy Reykjavik restaurant continues to achieve high standards, with this year being no exception. The brand new delicious 2010 menu continues in the style of an Asian/French inspired a la carte menu for those wanting a fresh dish with a splash of flare.
Bjorn Thor Baldursson, the restaurant's Head Chef, designed a dedicated sashimi and sushi menu, alongside a special sushi-tasting menu designed for two people to enjoy, offering mixed sushi platters, spicy tuna rolls and soft shell crabs.
To view the whiskey and wine menu and to make table reservations check out www.domo.is