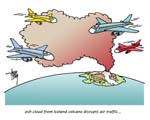 Photos, drawings and videos are beginning to emerge of the Eyjafjallajokull eruption in Iceland. The volcano is over ten-times more powerful than the recent Fimmvorduhals eruption and is not showing any signs of easing off.
This cartoon was sent to IceNews from Arend Van Dam in the Netherlands.
A video taken from a science flight over the volcano can be seen here.
And photographs taken on the ground this morning in the town of Kirkjubaerklaustur to the east of the volcano can be seen here.