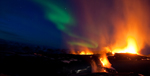 Tourists travelling via volcano tours to the volcanic eruption near the Eyjafjallajokull glacier last week were presented with the most powerful Northern Lights show of the past three years in Iceland. The Northern lights might continue to be visible in Iceland for the next couple of weeks, but the visibility is always subject to the right circumstances.
The lucky volcano seeking adventurers grabbed some breathtaking images that clearly define nature's power. This created a breathtaking photo opportunity for those located at the volcano eruption site at Fimmvorduhals in Iceland.
"I have never seen anything like this. I thought I was blessed to have an opportunity to see an active volcano in action but this incredible Northern Lights display was an unsuspected bonus. Unbelievable experience," commented an English visitor travelling with Icelandtotal.com.
Due to the country's location on the cusp of the Arctic Circle, and its recent eruption, Iceland is certainly one of the best places in the world to view both the Northern Lights and fiery volcanic plumes at the same time.
Icelandtotal.com offers several exciting volcano tours and Northern Lights packages.
For more information regarding these tours visit www.icelandtotal.com.