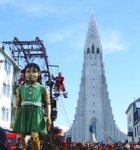 The annual Reykjavik Arts Festival (Listahátið) is this year celebrating its 40th anniversary. The 2010 festival will include over 60 events that represent all artforms from Icelandic artists that often collaborate with additional artists from abroad. This Iceland festival is one of the oldest and most respected arts festivals in Northern Europe with the purpose to promote Icelandic and international culture in all fields of art.
Reykjavik Arts Festival 2010 will be taking place between May 12th and June 5th at numerous locations in the heart of downtown Reykjavik. This year's program offers a range of concerts, theatre performances, exhibitions, dances and operas. In attendance this year will be one of Europe's most celebrated directors, Oskaras Korsunovas, who will be bringing his acclaimed production of Romeo and Juliet to the festival.
In addition to this, the arts festival will be holding a first for Iceland with a special celebration of the photograph, called "Reality check". Twenty exhibitions of photography in various galleries, museums and in the streets will be held, as well as several events connected to them. Artists from all over the world will be attending and participating in the festival this year. Among the countries represented are Mali, United States, Finland, Spain, Norway, Scotland, Canada, Denmark, Germany, Morocco, and Lithuania.
For the convenience of visitors to the festival, this year one of Reykjavik Art Festival's main partners will be CenterHotels. CenterHotels consists of five hotels that are ideally located in downtown Reykjavik, all within walking distance of the festival events. All of the guest rooms and suites are equipped with a private bathroom, flat screen TV, telephone, minibar and a free high-speed internet connection. The reception in all of the hotels are open 24 hours and a limited number of private parking spots are available for anyone renting a car.
To make a hotel room reservations in time for Reykjavik Arts Festival 2010 log on to www.centerhotels.com