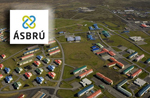 The Asbru Enterprise Park, located in Keflavik, is pushing Iceland to the forefront of entrepreneurship, education and business development. The park offers enthusiastic academic programs at Keilir: Atlantic Center of Excellence, aviation training, Iceland's first international data centre and other inspiring projects such as medical tourism.
In 2006, the North Atlantic Treaty Organisation (NATO) abandoned its military base in Keflavik, leaving over 900 local people unemployed. Instead of focusing on the negative aspects of the departure, the local population looked at the opportunities and consequently established the enterprise park, Asbru. The park's main areas of interest are to focus on technology, engineering and renewable energy, in order to create new jobs in Iceland, as well as education facilities.
The Keilir: Atlantic Center of Excellence, located within the park, consists of four different schools: the Health Academy, School of Energy and Technology and the Aviation Academy. Each school has the same objective in preparing students for further studies at university, whilst providing excellent specialist training.
Asbru Enterprise Park is also set to host an innovative venture by Kadeco, combining medical advancements with medical tourism. The hospital specialising in fat-removal, joint replacements and other medical treatments will house around 35 hospital beds, three operating theatres and all together have the capability of treating up to 4,000 patients per year.
Housing facilities within the park will also be utilised to accommodate patients and their families. The location for the hospital facility was chosen largely due to the area's vast knowledge and experience of tourism. It is also believed that up to 300 new jobs will be created by the redevelopment of the hospital and its related services.
For more information regarding the Asbru Enterprise Park and other business developments in Iceland visit http://asbru.is/English/