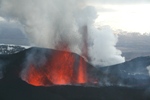 Icelandair is currently offering a city break package in Reykjavik, the capital city of Iceland, with the once-in-a-lifetime opportunity to experience the recent volcanic activity close to Eyjafjallajokull glacier in the south of Iceland. The Volcano City Break package deal is the perfect way to witness and experience the outstanding natural beauty and stunning sight of this Iceland volcano erupting.
The volcano tour is a 6 hour round trip and picks you up from right outside your hotel at 17:30 in the evening after arrival in Iceland. The coach then drives to the volcanic region near the Eyjafjallajokull glacier, taking you to the best possible place to view the exciting and exhilarating beauty of the volcanic eruption – obviously without getting too close for comfort.
The Volcano City Break package includes return flights from either London Heathrow, Manchester or Glasgow, as well as luxury accommodation for 3 or 4 nights at a 4 star hotel in the heart of downtown Reykjavik and the volcano tour to Eyjafjallajokull with Reykjavik Excurisons.
Reykjavik accommodates an abundance of fine dining restaurants with delicous gourmet menus, alongside numerous shops and unique fashion boutiques all on the main shopping street, Laugavegur. So after experiencing the natural wonders of the Iceland countryside and the extraordinary volcanic activity, you can enjoy the rest of your time taking advantage of all that downtown Reykjavik has to offer.
For more information on city breaks and holidays in Iceland visit www.icelandair.co.uk