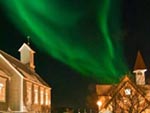 The Northern Lights are without a doubt one of nature's most incredible sights, they were even perceived as shield reflections of the Valkyries by the Vikings according to Norse mythology. During a clear and crisp night in Iceland, you can see the beautiful green and pink aurora shimming across the sky.
According to scientists, the strength of the Aurora Borealis is based on the amount of sunspots occurring on the sun's surface, of which follow an 11-year cycle. Scientists believe that 2010 is the best time to view the Northern Lights, as this cycle is soon to peak, intensifying the Aurora magnitude.
Due to the volume of Northern Lights, Grand Hotel Reykjavik is offering the amazing 'Grand Aurora' package deal, giving visitors the chance to view them from the comfort of a candlelit terrace room. Visitors can relax with a glass of champagne or beer in the luxury terrace, located on the 14th floor, and experience some Icelandic delicacies, such as smoked lamb on rye cake and rams testicles on rye bread, then followed by Skyr fantasy; all under the watch of the Northern Lights.
The 'Grand Aurora' package is available from October until the end of March.
For more information regarding the 'Grand Aurora' package and hotels in Reykjavik visit www.grandhotel.is/