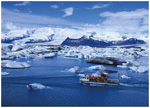 Iceland's Vatnajokull glacier national park is synonymous with unique advertising and film location management settings. The Jokulsarlon lagoon has previously been used as a thrilling backdrop for box office smash hits 'A View to a Kill' and 'Die Another Die', as part of the James Bond series.
The Vatnajokull glacier park encompasses some of Iceland's most famous scenery, from breath-taking glacial peaks and frostbitten landscapes to the peaceful idyllic Jokulsarlon lagoon. Another popular backdrop is the black basalt coast, which contrasts beautifully with nearby towering mountains.
Iceland's largest glacier is the ideal backdrop for any director wishing to capture incredible images on film; whether filming adverts, documentaries, adventure films or taking high-definition photographs.
Advertising and film location management specialists, Vatnajokull Travel, provide directors at all levels the assistance needed to film that special shot. The travel company's expert guides have a huge knowledge of the landscape and a vast understanding location management.
Vatnajokull Travel also specialise in unique glacial hikes, ATV tours across black sand beaches and alternative company incentives.
To find out more about film and advertisement location management in Iceland, and to book a once in a lifetime shoot visit www.vatnajokull.is/english/