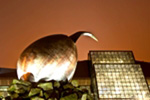 Keflavik International Airport in Iceland is preparing for expansive incoming flight traffic within the next few months, due to the increased attention brought to the country by the current economical dispute.
As Iceland's only gateway to the world, Keflavik International Airport is the first point of call for travellers. This increased demand for Icelandic tourism means that the airport has had to prepare for the influx of foreign visitors by keeping on top of the already high airport standards.
The favourable exchange rate, as a result of the situation, has lead foreign visitors to benefit greatly. Visitors can explore Iceland, and purchase goods for half the price than that of two years ago.
Keflavik International Airport was recently crowned as the 'Best airport in Europe' in the Airports Council International passenger satisfaction survey in 2009. Visitors commented on the airport's warming atmosphere, friendly staff and accessibility of connecting flights. Partakers in the survey also mentioned how appreciative they were with the airport's vast airport facilities and services.
More information regarding flights to Iceland, and Keflavik's quality preparations visit www.kefairport.is/english/