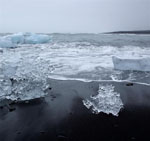 Vatnajokull Travel provides incredible guided adventure tours across breathtaking Iceland glaciers in the summer months. What could be more spectacular than glacier hiking across Vatnajokull, Europe's largest glacier, followed by ATV racing across Iceland's black sand beaches?
The 'Blue Ice and Black Sand' day trip begins in Hofn, a little fishing village located by the Vatnajokull glacier, where adventure seekers get to experience the glacier lagoon, Jokulsarlon, by boat. An expert driver guides travellers in between giant icebergs to experience the mythical lake up close.
Thrill seekers can also experience an ATV tour of the black sandy beach, Sudurfjorur, later on in the trip. This is a unique opportunity to enjoy the beautiful surroundings of Iceland, whilst enduring an exciting four-wheel drive at exhilarating speeds.
Other exciting tours offered by Vatnajokull travel during the summer months include: Super Jeep glacier treks, skidoo rides and various glacier hikes.
Experience the wonders of Iceland's national parks with Vatnajokull travel.
For more information regarding guided adventure tours and glacier hiking visit www.vatnajokull.is