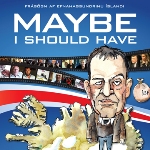 If you took out a ISK 2.2 million car loan, paid off 700,000 in the first year and were left with a debt of 5 million after having returned the car, maybe you'd want to make a movie about the Icelandic banking crash too. Just where has all the money gone?!
Maybe I Should Have is the name of a new film by Gunnar Sigurdsson and is a personal account of the Icelandic economic collapse: an unscientific investigation into what actually happened.
The film's budget was tiny, but still stretched far enough for foreign filming locations including London, Washington DC, Guernsey and Tortola, the tax haven every Icelander has now heard of.
The film's journey is punctuated with an authoritative roster of interviewees including a former foreign minister, a London banking boss and 'Outvasion Viking' Bjorgolfur Thor Bjorgolfsson, who explains how sometimes money just 'disappears' to 'money heaven' never to be seen again. Which is nice to know. Explains a lot.
While a fair bit of the Icelandic banks' money was indeed simply made up on paper, the rest of it (especially the money deposited in Icesave and other savings accounts) was very real. Sigurdsson demands the answer to a very simple question: where is that money now?
Regrettably he falls short of a concrete answer; but the more people openly asking such questions, the more likely we are to get an answer.
Maybe I Should Have is a highly entertaining and well-made film despite certain shortcomings. It goes on general release in Iceland on 5th February and the makers hope it will make its way onto the international film festival circuit in 2010 as well.