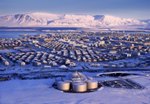 Traditionally, Christmas in Iceland begins on December 12th when the thirteen mischievous Yule Lads arrive. Their naughty antics include playful tricks like stealing meat, slamming doors in the middle of the night and harassing sheep. For thirteen days, children leave their shoes in windows in the hope for nightly gifts from the Yule Lads.
Icelanders actually celebrate Christmas on the 24th, where presents are opened and Christmas dinner is eaten. Christmas Day and Boxing Day are normally spent at home relaxing after all of the excitement from the night before.
Why not wander the streets of downtown Reykjavik and pick up something special for your family and friends – all at cheap prices today due to the decline of the krona. Afterwards, enjoy a relaxing swim and pamper yourself in the geothermal spas at the Blue Lagoon. There you can experience the positive effects the Blue Lagoon's geothermal water has to offer.
Iceland's glorious landscape provides the ideal Christmas surroundings – from the snow-covered mountains to the beautiful sunsets in the Highlands. Additionally, the volcanic island's location, at the cusp of the Arctic Circle, provides the best setting to view the Northern Lights this Christmas. These natural light displays are without a doubt one of the most breathtaking natural spectacles in the world – all the more reason to visit Iceland this Christmas.
To see all that Iceland has to offer over Christmas visit www.visiticeland.com