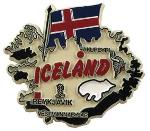 One year after the financial meltdown in Iceland when the three main banks, Kaupthing, Glitnir and Landsbanki collapsed, and many big Icelandic firms such as Baugur Group, FL Group and Moderna went bankrupt, a lot of the smaller Icelandic companies are starting to gain more of a momentum.
Some examples of small innovative Icelandic companies are Trackwell Mobile Resource Management, Gavia (Hafmynd), a new dimension in underwater technology, MindGames, which designs computer games entirely controlled by the users mood, and E-Label specialising in fashion design. Another great example is the Nordic Store, an online shop that sells Icelandic products worldwide.
The Nordic Store is a leading online shop in Iceland that focuses on providing and selling the internet shopper with the biggest selection of Icelandic products. The products on sale range from clothes, jewelry, music, DVDs, maps, travel guides, books, arts and crafts, health and beauty, souvenirs, and even food and beverages.
Some former bankers bought the company when they became unemployed after the bank crash and have subsequently turned it into a million dollar business. According to the owners, the key to its success is to offer quality products in niche markets. Nordic Store has, for example, greatly increased the selection of hand knitted Icelandic wool sweaters that have become very popular online.
To cope with the high demand the firm has now employed more than 50 local knitters, most of whom were unemployed before joining the Nordic Store, and the company expects to employ more throughout the course of the year. Other small Icelandic companies are showing similar progress such as Marorka, a marine energy management solution company, which is one of Iceland's most successful start-ups, announcing earlier this week that business is booming and 20 new employees will be hired over the next coming months.
In addition to this, The Minister of Finance, Steingrimur J. Sigfusson, presented a ministerial bill on innovative and start-up companies during an investors' conference recently, which will be submitted to parliament later this month. With incentives like this, small businesses in Iceland are creating jobs and helping the economy to overcome the country's deepest recession since the Great Depression began in 1929.
To view the incredible selection of Iceland products and to make purchases, visit www.nordicstore.net
(Advertisement)