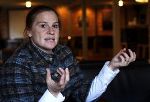 The British Serious Fraud Office (SFO) is looking into the affairs of the old Icelandic banks and hopes to soon decide whether or not a formal investigation into illegal activities will be launched.
A three-man team from the SFO has been working in Reykjavik with Icelandic authorities, in particular exchanging information and evidence about all three of the banks with Iceland's Special Prosecutor's office, since Monday.
"By means of sharing evidence we have sped up our investigation considerably and I am sure the same can be said about Iceland's Special Prosecutor's office. We seem to have already done many weeks' work in just the three days we have spent here," says Polly Sprenger from the SFO.
Sprenger is hopeful that some of the issues which are now being investigated connected with Icelandic banks will prove adequate to begin a formal investigation leading to future prosecutions.
The current informal SFO investigation into all of the old Icelandic banks began in the spring, but there was not satisfactory evidence to commence a formal investigation. The SFO now intend to focus the investigation one of the three former commercial banks; but Sprenger would not comment further on which of the banks that is.
Frettabladid reports.