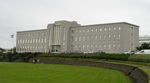 During the school year 2007-2008, 3,588 students graduated from high school and a further 3,611 at higher level education in Iceland. Statistics Iceland (Hagstofa Islands) reported that since the beginning of data collection back in 1995, there have never before been so many students graduating in just one school year.
The total number of graduates increased by 68, or by 1.9 percent from the previous year. Females made up two-thirds of all graduates, the equivalent of 66.4 percent, while males were just one-third, or 33.6 percent, which is a similar split as compared to previous years.
According to the same report, the number of students graduating with a master's degree in one school year has never before been so high either. 735 students graduated with a master's degree, which is an increase of 123 from the previous year, or 20.1 percent. The number of Ph.D. students was also more than in any previous year, with a total number of 23 graduating.
However, the total number of graduates attaining their first university degree was just 2,374, which is actually a 5.2 percent decrease from the previous year. The increase in the number of graduates at higher level education is due to the increase in the number of graduates with a master's and Ph.D. degree.
Visir.is reports.