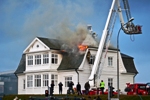 Historic Hofdi House, best known as the location for the 1986 summit meeting between presidents Ronald Reagan and Mikhail Gorbachev that effectively marked the end of the Cold War, caught on fire last night. Firemen battled the blaze and evacuated priceless oil paintings and other irreplaceable artefacts from the burning building.
Part of the building's roof had to be ripped off to help the extinguishing effort, and the damage is said to be severe. It is, however, going to be possible to repair the house to its former glory. Visir.is reports that initial investigations point to electrical wiring as the likeliest cause of the blaze.
Aside from Reagan and Gorbachev, Winston Churchill and Marlene Dietrich have visited the Hofdi house, which was built in 1909 and at one time housed the British embassy. The city of Reykjavik purchased the house in 1958, restored it to its former glory and has from that time used it for formal receptions and festive occasions. This September the house has been open to the public in commemoration of its centennial.
(More images by Olafur Kr. Olafsson)