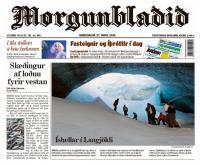 The parliamentary president's committee has decided in a meeting on Wednesday that it will terminate its Morgunbladid subscription for MPs. The Icelandic parliament has, up until now, paid for each Member of Parliament to receive a daily copy of the newspaper.
Chair of the Board Asta Ragnheidur Johannesdottir told Visir.is the decision is based on parliamentary cost cutting and has nothing to do with former Prime Minister David Oddsson being appointed Morgunbladid editor yesterday. It will still be possible for MPs to browse Morgunbladid in the parliamentary building itself; just not at their own offices.
"This is one of the things we are doing to save money. Morgunbladid is a newspaper we have been paying for, but in our opinion, that time has now passed. MPs can easily access news on the internet – even on their mobile phones – and therefore have all the information they need at their fingertips," Johannesdottir said. There are 63 MPs in the Althingi parliament, but Johannesdottir was unable to confirm how many Morgunbladid subscriptions parliament pays for.
"We will continue to buy the newspapers which are available in parliament: Morgunbladid and DV." She stressed that the decision to stop the subscriptions was taken before the news of Oddsson's appointment came out.