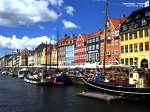 For the second time in a week, someone has been arrested at the World Outgames for a hate crime. The World Outgames, which was held in Copenhagen this year, is a major sporting, cultural and human rights event for gays, lesbians, and transgenders. Unfortunately, it is often marred by anti-gay actions, and this year's event was no exception.
The first incident involved two men, who were charged with attacking three gay men who were attending the event in Copenhagen. They were charged with hate crimes, which are defined as the perpetrator being motivated purely by the victim's sexual orientation, race or religion according to the Copenhagen Post.
The second arrest involved a 31 year-old man who threw powerful explosives at competitors during a track and field event in Osterbro Stadium. The man was able to throw two small bombs into the field before police arrived and took him away. Although he claims they were mere fireworks, the explosives were strong enough to have potentially caused physical damage to the victims.
See more at the CPHPost.