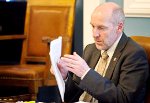 The government introduced an agreement with the bank's resolution committee at a press conference today which was held in the National Theatre in the capital city of Reykjavik. Bank obligees will discuss the new agreement but hopes are rather high that they will accept this agreement.
Foreign obligees would accept to own a big portion of Islandsbanki and Kaupthing banks, however the government of Iceland will still run Landsbanki. The Old Landsbanki, as called in Icelandic Gamli Landsbankinn, is however owned by the British and Dutch governments.
If the banks are owned by foreign companies, this also means that the banks can again participate directly in the international financial market, rather than being government owned. The government stated today at the press conference that this is a big step in fixing and moving forward for Iceland's economy.
Although it is in Icelandic, it is possible to see here the proposed agreement.
(Photo/Steingrimur Sigfusson taken by Omar from mbl.is)