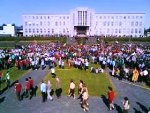 The past few days the local population of Reykjavik and the Capital Area might have taken notice of quite many scouts from all over the world. About 3,000 scouts from roughly 44 different countries have met in Iceland over the weekend for a European scout Jamboree called Rowerway. In the next few days, scouts will be exploring and traveling around the nation to familiarize themselves with Icelandic culture and society.
Their daily schedules of activities are much diverse, which is common for scouting events. At the end of the week, a "scouting village" will be set up just east of Lake Ulfljot (Icelandic: Úlfljótsvatn) where there will be held some fun activities.
"This is a great opportunity for us to take advantage of this Jamboree to establish more friendship relations with the participating countries", says Margret Tomasdottir who is the Head Scout of Iceland.
See the Official Scouting Website of Iceland for more information, although information in English might be limited.
(Photo/Scouts meeting outside of University of Iceland, photo by Jakob Fannar from mbl)