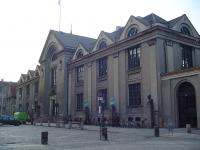 It appears that Danes are hitting the books again as most of the nation's major universities have reported sharp increases in their applications for enrollment this year. Upper educational institutions throughout Zealand, Jutland, and Funen are even witnessing record-breaking figures.
The University of Copenhagen saw a 49 per cent increase in its applicants this year, the Copenhagen Post reports, while the University of Aarhus enjoyed a healthy 37 per cent rise in student applicants. For the University of Copenhagen, the 20,619 people who applied to study at the school represented the highest level it has seen in 30 years.
Claus Nielsen, who works at the university's centre for study and career guidance, thinks several reasons are behind the sudden surge in new applicants for higher education. One of them is the introduction of the bonus rule, which took effect this year. The new rule allows any person who applies to college within two years of completing their qualifying exams to multiply their exam average by 1.08 per cent.
Since last year actually saw a decline in university applications across Denmark, Nielsen thinks many would-be students decided to wait until the bonus rule came into effect to apply for enrollment. The areas of Humanities, Health Sciences, Social Sciences, as well as English-language degrees, are all in hot demand. Foreign students applying for English-language programs are also on the rise throughout the country.
For the full article check out CPHPost.