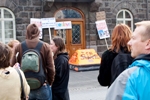 A growing group of around 700 protesters are outside Iceland's Althingi parliament in Reykjavik, where discussions are being held about the contract agreed upon between Iceland and the UK And Netherlands late last week over the failed Icesave savings accounts.
The protesters are banging pots and pans as in the daily protests last winter which forced the old government to call elections. Small change is also being thrown at parliament. Police are at the scene, but the protesters remain peaceful.
The protesters are demonstrating against the high amount of money the Icelandic taxpayer is now responsible for paying back and the high rate of interest attached to the loan. There is a small lifeboat outside Althingi with an "IceSlave" sign on it.
However, inside parliament, Minister of Finance Steingrimur J. Sigfusson said he is satisfied with the deal agreed.
Sigfusson stressed that the old government promised before and after the banking collapse that deposits with Icesave in the Netherlands and in the UK would be covered by Iceland and that he had little choice but to stand by their promise.
He told parliament that nearly all aspects of the deal have now been finalised on Iceland's behalf – not just with words but also on paper.
Sigfusson reminded parliament that when the issue first came up in October, it looked likely Iceland would sign a contract with the Netherlands for a ten-year loan with payments to start after three years and interest of 6.7 percent annually. There was also talk of a similar deal with the British.
The deal agreed upon now involves a loan of ISK 640 billion with interest of 5.5 percent. No payment is due for the first seven years, and payment will take eight years thereafter.