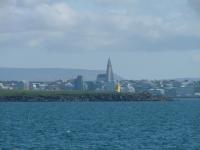 Reykjavik's popular and spectacular arts festival began at a ceremony yesterday and will continue until 31st May.
Among the many acts and exhibitions this first weekend, the Australian performance group, Strange Fruit are set to be among the most popular. They will be performing at Austurvollur Square at 14.00 today.
The festival website (www.artfest.is) says: "Strange Fruit, a Melbourne-based performing arts company, produces and performs a remarkable style of work that fuses theatre, dance and circus, using a unique elevated medium. The group will be part of the cityscape during the Reykjavík Arts Festival's opening weekend, both at the Opening Ceremony and the day after, in downtown Reykjavík. Perched atop 4-metre high flexible poles of original design, the troupe delivers a sublime performance, bending and swaying in the air, captivating and engaging the audience in absolute fascination. Originally based on the image of a field of wheat swaying in the breeze, the poles' extreme strength and flexibility enable the performers to bow to impossible angles, swaying back and forth in a hypnotising dance as the audience looks up in wonder.
"With a world-renowned repertoire that celebrates a wide variety of themes and stories, the company has achieved near-cult status in almost every continent across the globe. Performing regularly at festivals, special events and private functions, their sublime, hypnotic beauty is truly remarkable and must be experienced to appreciate its full effect."