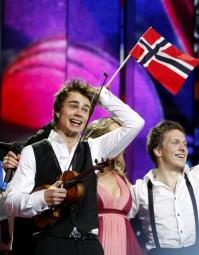 The Nordic countries enjoyed an excellent Eurovision 2009, with all five Nordic songs progressing to the final and Norway and Iceland ending up first and second.
Norway were runaway winners on the night in Moscow with 387 points, including top marks (12 points) from 16 countries.
Iceland came second with 218 points, including 'Douze Points' from three countries: Norway, Malta and Ireland.
In third place was Azerbaijan with a very respectable 207 points.
Iceland's Johanna (Yohanna) Gudrun Jonsdottir equalled her country's best showing when Selma also bagged second in 1999.
Norway's Alexander Rybak brings Eurovision home for the third time after Norwegian victories in 1985 and 1995.
The Eurovision Song Contest 2010 will take place in Norway.
(Photo: mbl.is/Reuters)