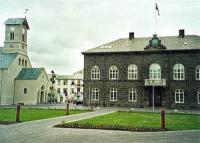 Althingi, the national parliament of Iceland, will meet today for the first time since the 25 April elections. The parliamentary schedule begins at 13.30 and starts with the traditional church service at Domkirkjan cathedral, next door to Althingi. However, the Icelandic Humanist Society has invited all MPs who do not wish to go to church to join them at Hotel Borg.
After the church service, ministers, MPs, clergymen and the President will make their way to Althingi, which will be officially opened by President Olafur Ragnar Grimsson. This will be the 137th term of parliament in the Republic's history (divided by Christmas and summer breaks, as well as elections).
The first task of parliament is for Prime Minister Johanna Sigurdardottir to introduce which bills are to be debated during the term.
Among them, the Foreign Ministry has presented a bill asking parliament for permission to begin negotiating the terms of accession with the European Union, mbl.is reported. As agreed by the two coalition government partners, the Social Democrats and the Left Green Movement, parliament will be allowed to decide whether to begin negotiations – but the nation will hold a referendum on whether to make a formal application once the terms have been agreed.