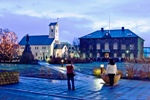 The make-up of the new Icelandic government will be almost unchanged to start with, according to mbl.is. There will be 12 ministries and cabinet ministers will increase from 10 to 12. New ministers will be named for industry; and for environment, fisheries & agriculture. A government press release states, though, that the government intends to trim the number of ministries from 12 to nine over the course of the upcoming term.
According to mbl.is sources, the non-MPs, Ragna Arnadortir and Gylfi Magnusson will retain their posts as Minister of Justice & Ecclesiastical Affairs and Minister for Business Affairs, respectively. Johanna Sigurdardottir will be Prime Minister, Ossur Skarphedinsson will be Foreign Minister and Kristjan L. Moller will be Minister for Communications.
Steingrimur J. Sigfusson will head up the Ministry of Finance, Katrin Jakobsdottir will be Minister for Education and Ogmundur Jonasson will be in charge of Health.
Arni Pall Arnason, Social Democrat regional leader in the Southwest, is expected to become the new Minister for Social Affairs and Social Security, while Katrin Juliusdottir will be Minister for Energy, Industry and Tourism.
The new Minister for the Environment will be Svandis Svavarsdottir and Jon Bjarnason will take charge at the Ministry for Fisheries and Agriculture.
Asta R. Johannesdottir and Kolbrun Halldorsdottir will not participate in the new cabinet, according to mbl.is sources.
A meeting of the Left Green Movement parliamentary group finished a short while ago and now members are sitting in a meeting to come to a final agreement on the make-up of the new ministries.
The current plan appears to call for a cabinet reshuffle in the New Year in relation to next year's budgetary requirements. At this stage it seems likely that industry, fisheries and agriculture will be merged into one "Ministry for Employment".
In that circumstance, the Ministry for the Environment would be strengthened to take charge of the Ministry of Industry's work with natural resources. At the same time, the Ministry for Commerce would also take charge of economic matters currently being taken care of by the Prime Ministry.