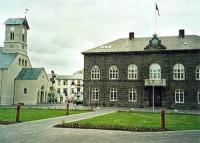 Iceland held Mayday workers' rallies on Friday, along with countries all over the world. The biggest march took place in Reykjavik, and turnout was described as 'unusually good'. The march was peaceful and ended in a gathering on Austurvollur Square outside parliament.
The marches around the world on the 1st May are a reminder to businesses and governments not to forget the welfare and development of ordinary citizens. It was, therefore, no surprise that this year's turnout was high.
Meanwhile the widely anticipated Mayday Government of the left-wing failed to materialise. Spokespeople for the Social Democrats and the Left Green Movement maintain that talks are going very well and that Iceland can expect a new government to be announced around the end of next week.
The 1st May was celebrated as a public holiday in Iceland, as in many other countries.