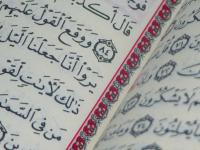 Last weekend was an important moment for the Muslim community in Iceland, because the first 'all-Icelandic' couple got married at the Muslim Association mosque. The head of the association, Salmann Tamimi, performed the ceremony to join Hjalti Bjorn Valthorsson and Gunnhildur Aevarsdottir in matrimony.
"Of course there have been Icelanders who have converted and married members of our communion, but this is the first all-Icelandic pair we have married," Tamimi told Frettabladid. He said that the number of Muslims in Iceland has increased rapidly over the last couple of years. "Two or three years ago you could count them more or less on the fingers of one hand, but now there are between 30 and 40 (Muslims in the Association)," he said. "Things seem to be improving for Muslims, both here in Iceland and elsewhere these days."
He cites the example of Islamic banking, where Westerners are increasingly learning from the model whereby everything does not revolve around interest – because interest payments are against Islam. He also goes on to point out that Muslims famously do not eat pork, a fact especially relevant at a time when a swine flu pandemic appears to have broken out.
Tamimi looks forward to a bright future for Muslims in Iceland, as the majority of the great increase in interest in the faith appears to be coming from young people – a trend he hopes continues.