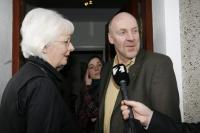 Iceland's Social Democrats and Left Green Movement began talks yesterday on the formation of a new government following both parties' strong showing in Saturday's elections.
Together the parties hold 34 seats in the 63-seat Althingi parliament, meaning a comfortable majority. Despite this, the Independence Party are actually the second largest party in parliament with 16 MPs – two more than the Left Greens.
According to leaders of the probable continuing government parties who met yesterday at Prime Minister Johanna Sigurdurdottir's Reykjavik house, financial issues are at the top of their joint agenda. Frettabladid reports that party leaders and deputy leaders resolved to meet several more times over the next few days before formally announcing the formation of a government.
Iceland elects its politicians using a system of proportional representation, meaning that voters choose to support a party and its pre-arranged list of candidates who will receive seats in order, depending on the party's share of the vote. Voters are, however, welcome to cross out candidates for the party they vote for on their ballot papers. If a lot of voters cross out the name of a candidate in their preferred party, that candidate will slip down the list.
According to Frettabladid, crossings-out were very common in Reykjavik on Saturday and it will be decided today the effect this will have on the make-up of the next parliament. Independence Party candidate for the South Iceland constituency, Arni Johnsen will, in all likelihood, be forced from first on the list to second. If this happens he will not lose his seat, as his party received three MPs in the South.
The importance of Saturday's election did not go unnoticed in the wider world, with more foreign journalists covering the event than ever before. There were plenty of journalists from the Nordic countries, elsewhere in Europe and the USA. A major Japanese television station also sent a crew and the UK arm of the Arabic Al-Jazeera network broadcast live from Reykjavik.
Photo: Mbl.is/Ómar