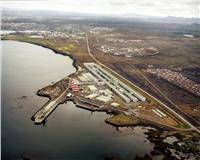 Hafnarfjordur is among the largest ports in Iceland and has options for many types of vessel – including cold storage, maintenance and repairs, and top quality unloading cranes. The town of Hafnarfjordur also makes a pleasant stop over location for any international crew.
The Port of Hafnarfjordur is located in the south western part of Iceland, very close to Reykjavik, the capital city. It has excellent facilities for many types of vessel, including fishing ships, and offers the good service at low prices.
Hafnarfjordur is not only a port for fishermen: containers ships and cruisers are just as welcome, in addition to oil unloading, bauxite suction and dry storage.
The Port of Hafnarfjordur has two different locations: one at Straumsvik, four kilometres away from the town centre, and Hafnarfjordur in the middle of the town itself. The Straumsvik site is located next to the Gasfelagid hf liquefied petroleum gas depot and the Icelandic Aluminium Company (ISAL) smelter site and therefore has facilities for unloading bauxite.
Hafnarfjordur Harbour proves an ideal berthing site for cruise ships as long as 350 metres and with 8 metres draught. The pretty town offers plenty for visiting cruise ship passengers to do – and that's before they even realise that the nation's capital is only a 10-15 minute drive away!
Ports in Iceland benefit from the nation's prime position in the middle of the North Atlantic Ocean – still one of the most important shipping routes in the world. Iceland ports also stand to benefit from the likely existence of oil in Icelandic waters and from the opening up of new shipping lanes in the High North.
Hafnarfjordur Harbour is ice free all year and can keep up the same service in the winter and summertime alike.
For more info on Iceland's most viable port, visit www.portofhafnarfjordur.is
(Advertisement)