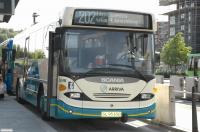 Denmark's capital Copenhagen is embarking on a dedicated campaign to lure more passengers into using the city's public bus network instead of driving their own vehicles. But the motive is more economical than environmental.
After completing a 6-month trial on the capital's 150S bus route, the consultancy group Cowi found that passenger numbers went up by 20 percent due to the perk of free wireless Internet access onboard the route's buses.
The Berlingske Tidende newspaper reports that the city is sufficiently impressed by the results that it may add other perks to attract even more bus passengers. During the trial period, more than 3,000 new passengers began using the bus instead of driving their cars.
But the initiative isn't completely altruistic. The private bus company Arriva, which operates the 150S route, made out handsomely from the 'incentive contract' offered by the city. Arriva earned three kroner for each new passenger who claimed to be satisfied with the new services like free Internet.
Local councils also benefited by receiving seven kroner per new passenger. This money is supposed to be invested in new buses and increased maintenance. The city of Aalborg has also reported success from similar initiatives, which is an encouraging sign considering nationwide bus usage has dropped 19 percent over the past decade.
The only real obstacle to citywide implementation of the plan is that the bus companies have to negotiate with each local council in Copenhagen they pass through; and some of them have proven to be tougher customers than others.