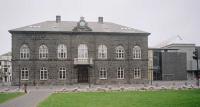 So far, with around 25 percent of votes counted, Iceland's Social Democrats are appearing as clear winners and appear to be exceeding opinion poll expectations. The Left Green Movement is running in second place, albeit with fewer votes than polls had predicted.
Together the two parties have a 52 or 53 percent parliamentary majority.
The conservative Independence Party are having a poor evening, as the polls foretold. The Independence Party leader predicts, however, that tonight is a damage limitation exercise and will provide the background to a comeback next time around.
The new Citizens' Movement is exceeding already high expectations with a share of the vote approaching ten percent.
More to follow.