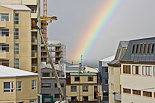 The delay in payment of the second instalment of the IMF loan to Iceland is having little or no effect on the state of the Icelandic economy, according to IMF representative in Iceland Franek Rozwadowski. The delay in the payment comes mainly due to technical issues arising from the financial system, as well as from the political uncertainty after the resignation of the previous government.
"The work has taken longer than expected, among other areas in the restructuring of the banking system. It made a huge difference that there was a change of government earlier in the year. While that was going on, the work almost stopped altogether," Rozwadowski told Morgunbladid.
The first loan payment from the expected total of USD 2.1 billion, was paid in December and amounted to a sum of USD 830 million. That money has barely been used as yet; and the recovery plan between the IMF and the Icelandic government does not anticipate a need to use money from the Fund directly to pay off liabilities, mbl.is reports.
The original plan called for an additional payment of USD 155 million to be paid to Iceland at the beginning of March this year, after the appraisal of the old banks' assets and debts. Due to delays in the financial restructuring and the recent political uncertainty, the IMF and Icelandic financial plan has been delayed by a minimum of two-and-a-half months compared to the original schedule.
Rozwadowski says that the IMF and the new government will need to sit down together after this Saturday's elections and rework some details of the deal to help achieve the goals which were originally set. "We will be back in business right after the election. We will be waiting for a call from the new government as soon as possible and then the discussions can begin. They will probably last several days, and then the work can continue in the agreed direction. […] What makes the most difference is that we continue to work on the plan to achieve the goals which have been set. It doesn't really make any difference if the loan payment is several weeks or months later than had been expected," Rozwadowski said.